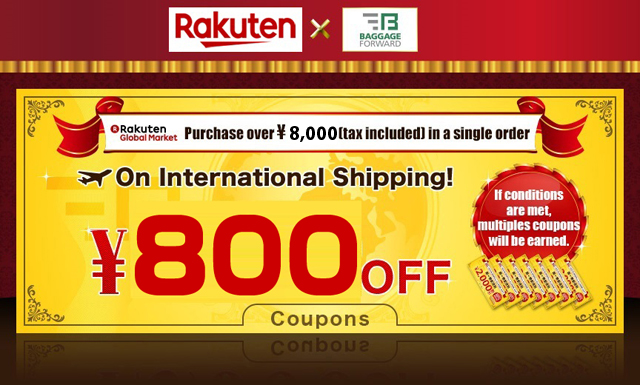 Steps of the promotion
Just sign up right now

Sign up free for BaggageForward and get your own Japan Address.
Purchase more than 8,000 JPY at Rakuten Global Market.
BF will send you an email about the application within two business days after your order.
After your payment for the international shipping, BF will ship your item(S) to your address overseas.
Duration of the promotion:
2022/05/23 00:00 ― 2021/05/30 23:59 JST

More details

*If you place an order of 8,000 JPY or more at Rakuten Global Market during the period and ship it to an overseas address using BaggageForward, you will get 800 JPY off on the international shipping cost.
*You will get 800 JPY off at the maximum.
*If conditions are met,multiples couponswill be earned.
*If the shipping cost is less than 800 JPY, you will get the shipping cost free. 
*If the shipping cost is more than 800 JPY, you will need to pay the amount that exceeds 800 JPY.

Duration of the promotion

2022/05/23 00:00 ― 2021/05/30 23:59 JST

Last day of the procedures
2022/06/30 23:59
*Please finish the international shipping order at BaggageForward by the time above.

Rules

*Purchase over 8,000 JPY at one time at a shop in Rakuten Global Market will be eligible for the promotion. 
*You will see an order number on the screen after your shopping is done. The discount will be applied to each order number.
*The total amount doesn't include domestic shipping cost or gift-wrapping fee.
*Orders made with coupons are calculated based on the price after the coupons on Rakuten are applied.
*Orders made with Rakuten Super Points are calculated based on the price before the Super Points discount.
*BaggageForward all-in one option fee is Free.

Notes

*Not valid to Rakuten Global Market Auction.
*The discount will be applied only to an international shipping cost, not to any other costs or fees. You will need to pay a domestic shipping cost from a shop to BaggageForward and handling fees of BaggageForward.
*You can arrange a shipment of any items from Rakuten Global Market. However, you can not get discount if the shipment includes items from any other shops.
*We may share your purchase data and your history of use with Rak